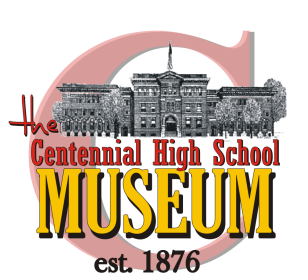 Centennial High School Alumni Foundation has constructed a new courtyard on the east side of Centennial, adjacent to the museum.  The courtyard is a 'Gateway to the Legacy' of 143 years of continuing education and activities in the Centennial tradition!
The Alumni Foundation President, Corky Madrid, conceived the idea of helping to finish the courtyard and, at the same time, raise funds for student teams, music and drama departments, and other school organizations.  The monies received from sales of courtyard commemorative brick and tile sales along with other efforts at rasing funds goes to support various educational needs of Pueblo Centennial High School and it student organizations.
A small group of volunteers provides tours through the museum.  The museum will normally be open during the school year on Tuesday and Thursday mornings.  Visiting the museum can also be scheduled by appointment by contact Margie Mastrini at 719-251-2399.


Board Members:
 Dale Stewart
 Randy Anderson
 Waunita Baccarella
 Mary Lou Barovich
 Tony Aragon
 Fred Darpino
 Paula Davis
 Jo Hansen
 Doris Kester
 Corky Madrid
 Elaine Madrid
 Sonny Madrid
 Marge Mastrini
 Chuck Mastrini
 Jeannie Morgan
 Margie O'Leary
 Rich Pike
 Joanie Potestio